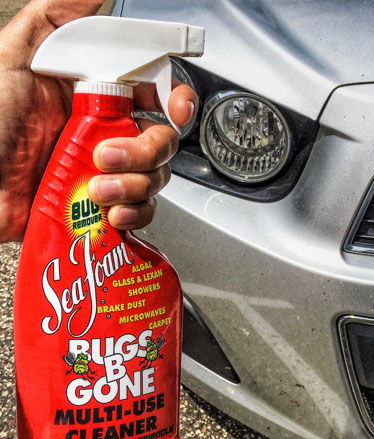 Beneficios
¡Limpia de manera segura los bichos difíciles de la carretera, la mugre, la savia de los árboles y otros residuos orgánicos de las superficies de automóviles y camiones, vehículos recreativos, motocicletas, barcos y más!
¡Seguro en cromo, pintura, parabrisas, espejos, plásticos, gel coat, metal y ruedas!
Rápido, efectivo, sin película ni turbidez.
Inodoro y biodegradable
Activado por agua
Direcciones
Pulverizar sobre una superficie fría.
Déjalo en remojo durante al menos 2 minutos.
Limpie con un paño húmedo o lave con agua.
Recuerde: no aplique sobre una superficie caliente o bajo la luz solar directa.
¡BUGS B GONE también es ideal para manchas, moho de cocina y baño, polvo de frenos y mucho más!
Resumen
¡BUGS B GONE limpia de manera segura los bichos difíciles de la carretera, la mugre, la savia de los árboles y otros residuos orgánicos de las superficies de automóviles y camiones, vehículos recreativos, motocicletas, barcos y más! BUGS B GONE también ayuda a aflojar y eliminar las manchas orgánicas duras: úsela en baños, cocinas y en la limpieza del hogar como pre-remojo o limpiador de manchas. ¡Ideal para paseos en bote, campamentos y viajes por carretera!
BUGS B GONE es un surfactante, lo que significa que afloja y elimina la suciedad orgánica persistente (como los insectos pegajosos) al romper su unión de una superficie o material. Seguro en todas las superficies, BUGS B GONE no contiene productos químicos agresivos y no deja una película o turbidez.
Rocíelo sobre insectos, mugre, comida u otro material pegajoso y orgánico para aflojarlo. ¡Luego limpie con un paño húmedo o lávelo con agua!
VEA EL
VIDEO HOW 2
The safe & easy way to clean stubborn crud from vehicles? Try Bugs B Gone!
If you own a car, truck, camper, RV, boat, motorcycle… you gotta try this stuff. Works fast and safe to clean any vehicle surface! Safe on clear coat and painted surfaces, Lexan, windshields, headlights, chrome, plastic, vinyl carpet…any vehicle surface. Cleans bug splatter, road grime, mildew, dried algae, brake dust, exhaust soot.