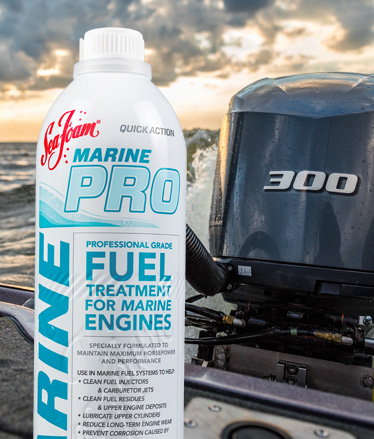 Beneficios
Limpia y lubrica todo el sistema de combustible.

Reduce el desgaste del motor a largo plazo

Ayuda a proteger contra la corrosión causada por el etanol y el agua.

Estabiliza el combustible del tanque hasta 2 años.
Direcciones
Para el mantenimiento regular del sistema de combustible, agregue 1 oz. por 1.5 galones de gasolina. 1 lata trata hasta 30 galones.

Para la limpieza, agregue 2 o más oz. por galón a un tanque bajo o parcial: cuanto más agregue al combustible, mejor limpiará.

Para máquinas de limpieza profesionales, use 50/50 mezclado con gas.

Para cebar los filtros de combustible marino, use 100% Marine PRO.

Para premezclas de 2 tiempos, agregue 2 oz. por galon.

Para estabilizar el combustible, agregue 1 oz. por galon.
Resumen
Agregue Marine PRO a cada tanque de combustible para ayudar a que su motor marino arranque más rápido, funcione más suavemente y dure más. Funciona a través de inyectores de combustible y carburadores para eliminar de manera segura los residuos y depósitos dañinos del motor de los pasillos de combustible, válvulas de admisión, pistones y áreas de la cámara.
Marine PRO es seguro y efectivo en todos los motores marinos de gasolina de 2 y 4 tiempos, tanto internos como externos.Marine PRO solo contiene ingredientes de limpieza y lubricantes a base de petróleo. NO contiene productos químicos agresivos ni detergentes abrasivos que puedan dañar su motor. Marine PRO no contiene alcohol.
VEA EL
VIDEO HOW 2
Help your marine engine run smoother and last longer with Sea Foam Marine Pro – just pour it in! Add to every tank to clean fuel injectors and carburetor passageways, cleans and lubricates critical upper engine areas, stabilizes fuel, and helps clean and protect your entire marine fuel system.