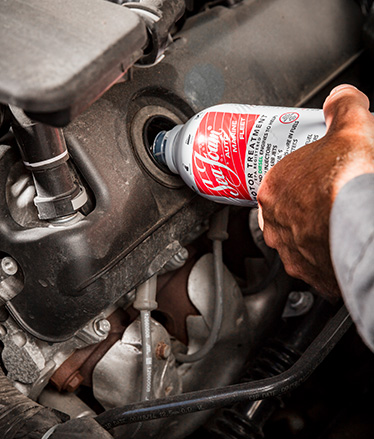 Beneficios
Ayuda a que el cárter funcione más limpio y dure más.
Licúa los residuos de petróleo que restringen el flujo de aceite y la lubricación del motor.
Limpia los anillos de control de aceite y actuadores.
Disuelve y limpia depósitos nocivos en todo el cárter, incluidos los residuos de hollín diesel
Quiets levantadores ruidosos.
Indicaciones
Determine cuánta espuma de mar agregar al aceite. Agregue 1 onza por cada litro de aceite en el cárter.
Retire el tapón de llenado de aceite y vierta la cantidad recomendada de espuma de mar directamente en el cárter del motor. No exceda un tratamiento por intervalo de cambio de aceite.
Conduzca de 100 a 300 millas antes de cada cambio de aceite y filtro para obtener los mejores resultados de limpieza, aunque Sea Foam se puede agregar en cualquier momento entre cambios de aceite.
Resumen
Sea Foam se puede agregar al aceite del motor con la misma frecuencia que cada intervalo de cambio de aceite, solo agregue a la abertura de llenado de aceite del motor. Asegúrese de revisar su aceite regularmente para mayor claridad. Siempre que se ensucie (pasa de claro a oscuro), cambie el aceite y el filtro.
Cuando se agrega al aceite del cárter, Sea Foam Motor Treatment trabaja para licuar residuos y depósitos dañinos que pueden restringir el flujo de aceite y la lubricación del motor. Sea Foam es seguro para todos los aceites de motor, convencionales y sintéticos. Hecho de ingredientes de petróleo, Sea Foam NO contiene detergentes fuertes o productos químicos abrasivos que pueden dañar el motor o los componentes del sistema de combustible.
It's easy to use – just pour it in!
VEA EL
VIDEO HOW 2
Add Sea Foam to your oil crankcase – Super easy!
Adding to crankcase oil is the #2 use of Sea Foam (in fuel is #1) by professional mechanics and DIYers. Great intro video on how to do it – super easy! Added to oil, Sea Foam liquefies heavier petroleum residues and deposits back into the fluid so everything drains away when it's time to replace oil and filter. Pour it in every oil-change interval to keep oil flow passageways cleaner and help the engine last longer!